Online 20th century fine art appraisal specialists

As independent qualified appraisers with over sixty years
of combined experience specializing in 20th century fine art sales and research, we're well positioned to bring our clients consistent and insightful valuations from a
continually evolving art market for 20th century works.
We actively operate an up-to-date fulltime website gallery dedicated to 20th century Canadian and American fine art paintings, hand-pulled prints and other rare and unusual one-of-a-kind artifacts.
It is the advantage of having knowledgeable professionals
with direct marketing experience that can bring you information that is reliable, informative, accurate, and focused on your particular need for an fine art evaluation for a reasonable cost of
$129. per artwork appraised
.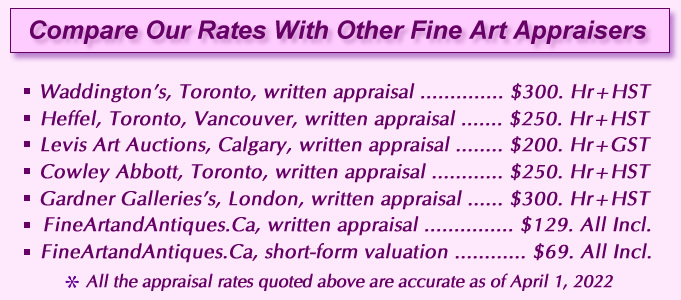 Fine Art Appraisals, with over 3 decades of experience.